Nightmare studios creates custom themed Halloween haunted attractions, props, figures, animations and costumes for TV, movies Wax Museums, family fun centers, theme parks, charities, Malls and multi haunt scream parks. NIGHTMARE STUDIOS is your one stop shop for shock. Chances are If it scares you we can make it a reality !!!
The Nightmare Studios Team of artists create in house terrifying custom static figures, animated figures, masks, props, costumes or entire themed attractions for the haunted attraction / entertainment industry. "
By keeping our over head low and our quality standards high no other studio can give you the same superb bang for the buck !!!! " says Patrick Matthews founder and president of Nightmare Studios. NIGHTMARE STUDIOS wants to help you bring your dreams to life!!! Let us know how can we help you take your event to the next level. NIGHTMARE STUDIOS is here to help any sized event big or small your imagination is the limit.
Contact us for more information. Call Patrick Matthews 903-804-9599 or email madwaxsculptor@aol.com
NIGHTMARE STUDIOS
THE HOUSES OCTOBER BUILT
CREATURE SEEKERS
THE HOUSE OF FRANKENSTEIN 2021
THEATRE IN WAX HAUNTED HOUSE 2020
ZOMBIE APOCALYPSE 2012
VAN HELSING'S HAUNTED HOUSE OF WAX 2011
VAN HELSING'S HAUNTED HOUSE OF WAX 2010
NIGHTMARE IN THE HOUSE OF WAX 2009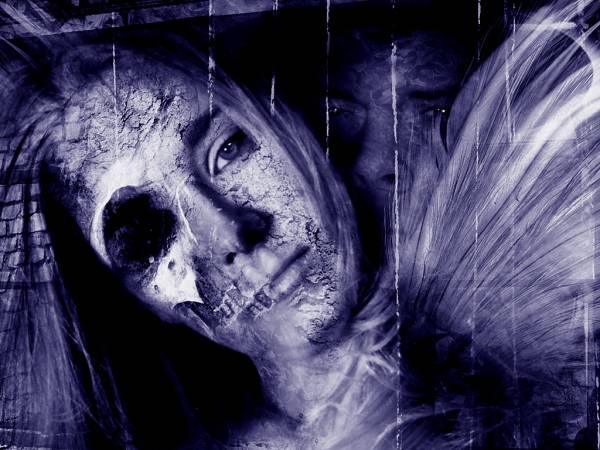 Patrick Matthews owner/ operator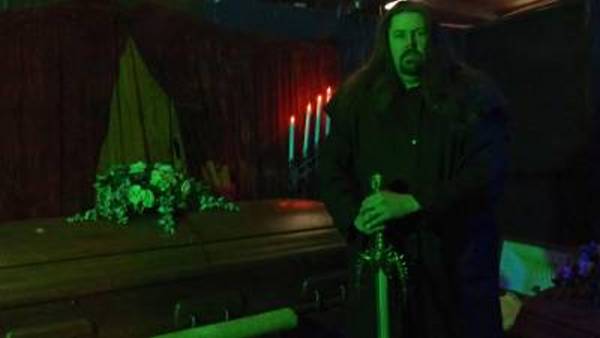 Patrick Matthews is a haunt veteran of over 28 yrs and is owner of NIGHTMARE STUDIOS, HOUSE OF FRANKENSTEIN, THEATER IN WAX, VAN HELSING'S HAUNTED HOUSE OF WAX,TERRORPLEX PHANTASMS, THE MUSEUM OF FEAR , THE MORBID MARKETPLACE, NIGHTMARE IN THE HOUSE OF WAX, and AOMBIE APPOCALYPSE HAUNTED HOUSES.
Patrick started as a haunt actor working in many DFW Haunted attractions and quickly moved into creating props and room designs. Knowing he needed to take his skills to the next level NIGHTMARE STUDIOS was created!!! Today Nightmare studios has creations showcased in hundreds of haunted attractions, museums, Television shows, stage productions and motion pictures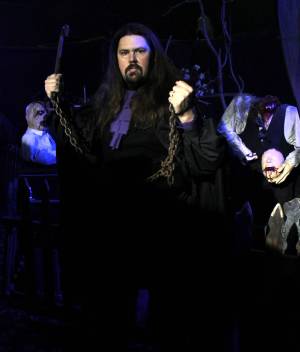 Heather Roberts, Matthews Co Owner costume design/ seamstress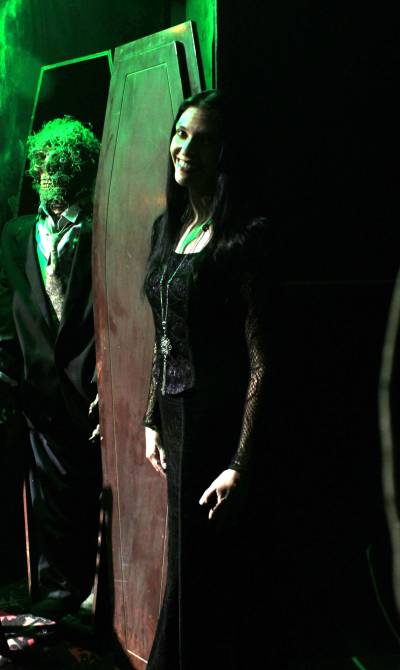 For 23yrs Heather has been co owner and assistant manager of NIGHTMARE STUDIOS. Heather is the senior costume designer and seamstress . Heather is also faux painter and at times moral support for NIGHTMARE STUDIOS.